Produits et services
Pick-your-own
Strawberries
FIELDS ARE CLOSED !
Come harvest your own strawberries, fresh from the field. Make it a special family outing – or drop by on your way home from work. Remember: the only thing more delicious than a farm-fresh strawberry is a farm-fresh strawberry you've plucked from the garden with your own hands…
---
Raspberries
FIELDS ARE CLOSED.
In July, as strawberry season starts to wind down, there's no reason to stray too far from our fields, because that's when the raspberries start to plump up! Raspberry picking is an equally wonderful, albeit lesser known, group activity. Delight in the great outdoors while you gather these juicy, ruby-red wonders from the bush.
---
Tomatoes, eggplants and peppers
CLOSED FOR THE SEASON !
Our vegetable U-pick starts up near the end of the summer, when our tomatoes , eggplants and peppers are just begging to be scooped up and taken home.
Locally grown, chock-full of vitamins and minerals, and tasty beyond compare… there's simply nothing better, or better for you!
---
Farm Guided Tour
NOT AVAILAIBLE FOR NOW.
This guided tour will get you out to see produce growers in a fresh new light. On their farm tractor ride, admire magnificent crops and learn all about the seed-to-plant process to better appreciate the close relationship between the land, and the family that tills it.
The Vaillancourt family offer an invitation to plunge deep into their farm life, to pick the fruit of their labour and chat a bit over a refreshment in their company! Of course, you'll leave with a wonderful basket brimming with fresh-picked vegetables to cook up a feast of your own.
---
Let Agathe tickle your taste buds
All of our preserves are made with fruits and vegetables from the Vaillancourt farm. Jam, chutney, relish, beets, pickles and marinades galore – with no preservatives to hamper the experience.
---
Local Fruits and Vegetable Kiosk
We offer a full selection of fresh fruits and vegetables, locally made foods, preserves, dairy products and baked goods (just like grandma used to make!) – not to mention ready-to-plant annuals and herbs for your own garden.
---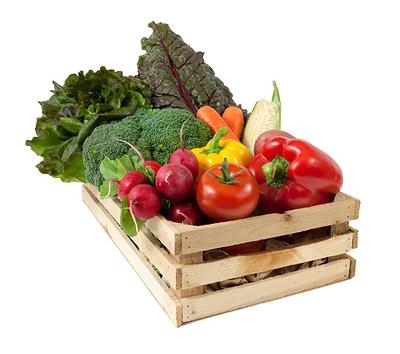 Vegetable and Fruit Baskets
We know how valuable – and limited – your time is. It's not always easy to find a spare moment to pick up fresh produce from local farmers.
Here at the Vaillancourt family farm, we are strong believers in the importance of shopping and eating locally as part of an environmentally friendly lifestyle. And we are proud to help you make that happen, with a basket of fresh, locally grown produce prepared for you every week.
CLICK HERE TO REGISTER FOR THE 2023 SEASON
SEASON KICKOFF
Pickups are scheduled to begin the week of June 19, 2023 and continue until the week of September 18, 2022, for a total of 14 weeks. An email will be sent to you mid-June to confirm the first pickup date and provide you with further details about the rest of the season.
HOW DOES IT WORK?
We'll have your basket of farm-fresh vegetables, fruits and herbs ready for you to pick up every Thursday, between 10 a.m. and 7 p.m., right here at our farm stand, conveniently located off Route 335 in Laval.
Each basket will contain between 6 and 12 seasonal selections, depending on the basket size you choose. In addition, you'll find a few surprises to tantalize your taste buds and coupons for specially priced items at the farm.
And for our corporate clients, we can prepare and deliver baskets for your entire staff. Be sure to contact us for more details!
HOW MUCH DOES IT COST?
We offer four basket sizes to suit any sized household.
Standard A Basket

– Between 9 and 12 selections of vegetables, fruits and herbs. The cost for the standard basket is

$29 a week (including taxes) for a total of $406 for the entire season. Ideal for families.



NEW ! This basket is also available every two weeks for a total of $203 for the season.



Small B Basket – Between 6 and 9 selections of vegetables, fruits and herbs. The cost of the small basket is $18,50 a week (including taxes) for a total of $259 for the entire season. Ideal for one person.

NEW ! This basket is also available every two weeks for a total of $129,50 for the season.



Discovery option - This is our standard-sized basket (A or B), but with in addition of gourmet discoveries every two weeks. For example, beverages (alcoholic and non-alcoholic), cheeses, sausages, granola, jams, oils, pies, cookies, etc. The purpose of this basket is to help you discover the treasures of our region and its surroundings!
The cost for the discovery option is 165 $ for the entire season in addition to your registration for the A or B basket.
AND MORE
With your registration for a basket, you will be entitled to a 10% discount on your fruit and vegetable purchases at our kiosk


In order to offer you a greater variety of fruits in your baskets, we have decided to include certain fruits from Ontario such as peaches, plums, blue grapes, etc. If, however, you prefer only fruits from Quebec, just let us know.
VACATION
If you plan to be away at any point between June and October, you can delegate someone else to pick up and enjoy your baskets, or you can postpone up to two baskets to the end of the season. Please let us know of any changes at least one week in advance or, better yet, indicate your vacation dates in your registration form.
PAYMENT
We ask for full payment or a 50% down payment to reserve your spot. Note that full payment is greatly appreciated and helps us better plan out our season. Otherwise, the remaining 50% is due when you come get your first basket in June.
Below is a partial list of some of the vegetables and fruits that may be included in your basket this summer. Our commitment to local farming means that all items will be grown either right here or at a partner farm in Quebec that practices sustainable agriculture.
Fruits
Vegetables

Apples

Blueberries

Cantaloupe

Ground cherries

Melons

Pears

Raspberries

Strawberries

Asparagus

Beans (green/wax)

Beets

Broccoli

Brussels sprouts

Cabbage

Carrots

Cauliflower

Celery

Corn

Cucumbers

Eggplant

Garlic

Herbs

Leeks

Onions

Peas

Peppers

Potatoes

Radishes

Salad greens

Shallots

Spinach

Squash

Swiss chard

Tomatoes

Turnip

Zucchini/miniature squash